KVH's TracPhone V3-HTS can help drive profits, maximize operations, and improve crew morale via its high throughput Ku-band maritime VSAT system; particularly with the NEWLY enhanced coverage (described below*).
Until now, the speed and global connections offered by the V3-HTS were only available on much larger systems. In fact, the TracPhone V3-HTS performs better with its ultra compact 37cm antenna than competing Ku-band antennas measuring up to 85cm.  This system enables your crew and your business to connect with your office, obtain chart and weather updates, browse the Internet, review emails, stream HD content, use WhatsApp™, and more.
Features

A commercial-grade antenna with high-performance stabilization and tracking, ideal for small vessels or as a blazing fast VSAT backup for large vessels
Proactive monitoring to ensure maximum up-time and performance
Uncompromised download/upload speeds to 5/2 Mbps1
Flexible metered airtime plans that provide:

Unmatched network speeds available at all times
Flexible monthly plans or temporarily suspend service

See below for NEW KVH Regional  V3-HTS Agile Plan Options with Local Coverage Maps
* KVH V3-HTS Continues to Expand its Footprint:
In February 2020, KVH introduced their "Free Equipment Rental Plan for Mini is Mighty", compact V3-HTS Ku-band antenna with a flat monthly fee, always-on, data plan for the commercial marine market.
Albeit the benefits, its major shortcoming was LIMITED Coverage Area to specified coastal regions and in North America, much of the Pacific coast was not included.
. . . See how far the V3-HTS Coverage Area has expanded in less than a year!!!
Mackay now offers V3-HTS mostly GLOBAL Coverage with the same data service plans & rates as the Regional Coverage Plans.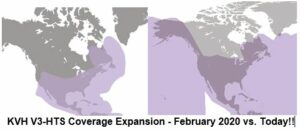 CONTACT US at satserv@mackaycomm.com,
+1 919 850 3100 or speak with your regional Mackay Marine Salesperson
Tech Sheet(s)
Request more info on this product