Telemedicine
Telemedicine is a rapidly growing avenue to provide remote medical care, whether for disaster scenarios or basic healthcare services for patients in remote regions or around the globe.
The ability to receive information during an emergency can mean the difference between life and death. Natural and man-made disasters can disrupt communications and disrupt critical aid response time, receive vital instructions and medical records. Additionally, across the globe, providing medical assistance in remote areas is an ongoing challenge that needs reliable, portable, communication solutions.
Satellite is the only network that allows you to bring voice and data into a disaster area or to remote areas when all other forms of communication cease to function or are unavailable.
With seamless communications using portable satellite systems, telemedicine professionals can successfully access remote global locations, alert rescue to heavily damaged areas during emergencies, provide medical assistance, receive real-time diagnosis from experts, access medical records, and coordinate relief where it was previously impossible.  Satellite networks are the only communications systems that can guarantee 99.99% voice and data availability.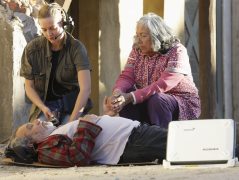 Mackay Satellite Services will provide you with the appropriate portable satellite communications equipment, airtime packages, and training to be assured of reliable communications throughout the globe.
Continue telemedicine and medical support with reliable access to information from any location and disaster scenario, no matter how severe or remote.
Find below, a sampling of suggested satellite communications solutions to ensure Telemedicine Connectivity.