Projects – New Build
Printable pdf – Mackay Marine New Build & Retrofit Project Integration Services
(links to most recent new-builds, end of page)
Mackay Marine is very experienced at integrating complete marine electronics packages – new build vessel projects.  Mackay's depth of technical expertise enables us to maintain a "big picture" approach when advising our clients and/or developing project proposals.
Everything we do is driven by the need to deliver a complete operational package.  Specification requirements, regulatory bodies, and budgets are the primary considerations throughout the project.  Our goal is to "get it right the first time", thereby reducing changes and cost increases.
Once a purchase order is in place, work begins immediately to produce deliverables such as:
One-Line cable diagrams for yard material requisitioning & submission for class approvals
Dimensional or foundation data packaged for Mackay's entire scope of supply
Installation and/or operation manuals for all equipment
Assistance with antenna layout
Full point-to-point connection diagrams for use during installation and commissioning
When Mackay is the console supplier, we assume full production responsibility: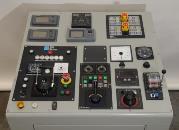 Communicating with all OEM's whose equipment is specified for the consoles
Gathering cut-sheet data for all equipment & coordinating with console maker
Verifying (if required) that consoles meet 'class design' requirements
Logistics coordination of all console-related equipment to console maker
Manage entire integration and wiring of console equipment
Complete list of internal wiring diagrams & equipment
Mackay's Projects Group is comprised of our estimating, purchasing, engineering, and project management personnel.  This dedicated team oversees all new construction from start-to-finish, including design and engineering, installation, through commissioning and Sea Trials.  After delivery, we continue to support the yard and vessel owner with warranty support via Mackay's 24/7 World Service Network.  Throughout the entire process, Mackay is committed to being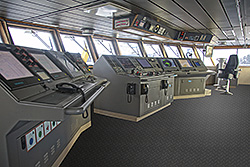 proactive in our actions and communications, so that our portion of the new-build project runs smoothly, on time, and  to ensure the client's requirements are met.
For more information and to discuss how Mackay Marine can assist you in new-build design integration, contact us at marinesales@mackaymarine.com or call +1-281-479-1515.
SEE LINKS to Latest New Build Projects, in which Mackay was selected as primary electronics integrator or product-specific provider; the former often includes sales, installation, commissioning and sea trials. (following vessel pictures below)
Sampling of new-build vessels Mackay's Project Group worked with designers to integrate optimal electronic equipment packages (last image- new fishing trawler, complete with electronics supplied by our Mackay Marine Canada team):