Mackay Moves Retrofit Integrated Bridge to NEW Singapore Showroom – Launched at Sea Asia 2017 (Popular with Clientele Along with Mackay's Global Growth)
UPDATE:  Mackay Marine's new Singapore Office opens its Showroom doors which includes a fully functioning Retrofit Integrated Navigation Console, first debuted at Sea Asia 2017 (details below).
Clients and maritime personnel are encouraged to visit Mackay Marine Singapore, 2 Corporation Road, #05-12, Corporation Place, Singapore 618494, (+65 6686 2806, singapore@mackaymarine.com) to see the navigation bridge first hand and to discuss options to upgrade their electronics,  vessel servicing needs, and more…
---
May 1, 2017 –  Mackay Marine's Asian Sales and Service Team welcomed a record number of visitors at our Sea Asia 2017 booth, April 25-27th in Singapore.  Of particular interest was the unveiling of Mackay's Retrofit Integrated Console, coupled with interest in our targeted global service programs and steady regional growth to better serve maritime customers.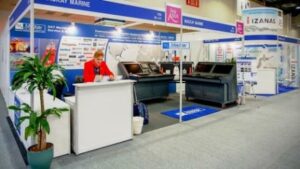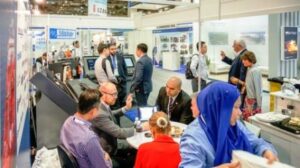 Click here for an excerpt about Mackay's On-Voyage Retrofit Bridge Consoles & Singapore Showroom Plans,, published April 25th in the SeaAsia Show Daily Newsletter, or find the full article below.
---
Mackay Unveils On-Voyage Retrofit Bridge Consoles & Showroom
with Global Services to Keep Ships Safe, Sailing Efficiently, and Earning Money!
Join Mackay Marine at Sea Asia 2017 booth B2-U11 for the debut of our integrated marine electronics consoles; soon to be part of Mackay's simulated fully-integrated bridge showroom within our new Singapore office.
At Sea Asia17, our On-Voyage Retrofit Consoles includes a Cobham SAILOR SAT C & VHF; Kelvin Hughes ECDIS; SIMRAD MX610 Navigation System & 2X Radar; Jotron TR8000; Skipper Echo Sounder; and Danelec-Marine VDR.  With the exception of the SART & EPIRB, all units will be functional on-site.  Consoles are complete with several displays plus a large 27" SIMRAD monitor to enhance visitors' viewing experience.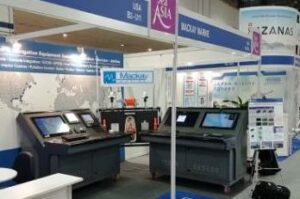 The consoles and equipment selection represent a sampling of Mackay Marine's "on-voyage retrofit bridge" solutions.  Each product is carefully chosen to satisfy the following guidelines:
Ease-of-Installation
Integration into Existing Bridges
Worldwide Product Support
Cost-Effective Solution
Discover how seamless it can be to upgrade your vessels with the latest in bridge electronics using Mackay's new "on-voyage retrofit bridge".
Also ask about our innovative "Anywhere, Anytime" global service packages, designed to save time and money, by keeping your vessels on-the-move; with the assurance of our in-depth regulatory knowledge.
From inception, 130+ years ago when founder, John Mackay pioneered communications applications, Mackay's goal has been to provide customer-centric solutions with quality service.
To better serve our global customers, Mackay has strategically grown in scope and depth.  Since 2009, we've DOUBLED both our factory-trained Maritime Technicians and locations in Canada, Latin America, Europe, and Asia.  To augment our availability in Asia, dedicated Mackay teams attend Tianjin, Qingdao, Shanghai, Guangzhou, Hong Kong, Singapore, Malaysia, and Mumbai. Mackay World Service coordinates service at all global ports 24/7.
Combining strong vendor partnerships representing 50+ leading suppliers, with extensive inventory, Mackay is fully prepared to sell, install, integrate, arrange service, and inspect all marine electronics for any class/size vessel worldwide; serving maritime, offshore & government customers.
Stop by Booth B2-U11 to experience our streamlined "on-voyage retrofit bridge"​, and discuss how Mackay can meet all your global marine electronics needs.
Visit Mackay Marine Singapore, by contacting us at +65 6686 2806, singapore@mackaymarine.com ,
2 Corporation Road, #05-12, Corporation Place, Singapore 618494, www.mackaymarine.com