Mackay Marine at Pacific Marine Expo (PME) – Expands to Booth 1501 & 1329
Mackay Marine at Pacific Marine Expo – Booth 1501 & 1329
Showcasing Electronics, Software & Services to Keep Fishing Fleets and Coastal Vessels Productive, Competitive & On-the-Move
Mackay Marine has expanded our footprint at PME 2019 to better showcase our breadth of products, services, and customer base.
Click LINK for a FREE PME Expo Pass; Courtesy of Mackay.
Visit MACKAY MARINE Ballard & Dutch Harbor and SatCom Group in Booth 1501.  Featuring LIVE displays from all major manufacturers including Furuno, Simrad Fisheries, Marport, Garmin, Simrad Navico, etc.  Our experienced staff is available to answer questions, showcase the latest in fishing technology, and assist finding answers to your fishing needs, including electrical supplies and service.  Special SHOW Pricing on Select Hardware!
Offering a full-line of Satellite Equipment Solutions, with versatile Airtime Plans, to meet connectivity needs of Fishing and Coastal Vessels:  KVH, Iridium (Certus), Fleet One, FBB & Fleet Xpress, Ku-Band VSAT, and voice and PTT communication options. Ask about SPECIAL PME-Rates.
BOOTH 1329 – Join the Olex Community of Shared Bottom Data!
Olex is an innovative software program for navigation, fishing and surveying. Uniquely running on a very stable Linux-based platform, Olex utilizes a dedicated processor; the new M4 computer with solid-state hard drive and WiFi.
Olex systems interface with any NMEA single-beam sounder, Atec Multibeam, WASSP & most Simrad Multibeam units. Great Optional Features: Bottom Hardness, Weather, AIS, Trawl Position. Plus, FREE Software Updates!
You Can't Afford to Fish Without OLEX!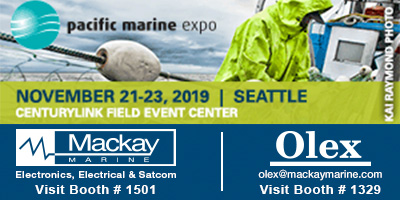 Adapted from Mackay Marine Press Release in PME  EXPONews & National Fisherman online.
Check out other Fishing Related Products from Mackay.
Summary:
Mackay Marine is a global marine electronics and service provider, offering Communications, Navigation, Safety/Security, and Anti-Pollution equipment/spares from leading vendors worldwide.  With 40+ offices, 150+ technicians, & 24/7 Mackay World Service coordination, Mackay serves all size/class vessels.