Employee Spotlight – Ben Staggs
Employee Spotlight
Ben Staggs
Mackay is pleased to recognize one of our very own employees this month, Ben Staggs.
Ben has been with Mackay Marine for 15 years as a Marine Engineer and has worked on numerous high-profile vessels and projects for Mackay around the world. Ben and his crew just completed the very successful bridge refit with Furuno for Mackay Seattle customer Pasha Hawaii and electronics commissioning for CCGS OFSV#3, future John Cabot. Whether it is integrating a bridge, installing shipboard radios, conducting VDR APTs, a radar groom, or a complete retrofit of a vessel, Ben, and the Vancouver staff, are a formidable team.
Ben is currently a CSE and the Manager of Mackay Marine in Vancouver, BC, Canada.
Ben started his career with the US Navy as an Aviation Electronics Tech 2nd Class Petty Officer serving on the aircraft carriers USS Kitty Hawk & USS Carl Vinson. "When I joined Mackay and saw the opportunity to travel the world inspecting ships, I jumped right on it and never looked back", said Ben.
Some of Ben's hobbies include enjoying hiking, cycling, snowboarding, and playing guitar. Ben has a great sense of humor and is a dedicated employee, and we are proud to have him represent Mackay globally.
Here is to another 15 years, Ben!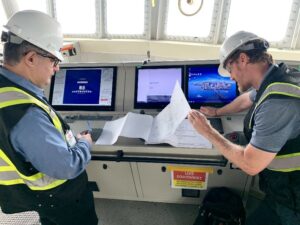 Benn Staggs (on the right)