January 2022 GPS ROLLOVER is HERE & May 2022 is Just Around the Corner – Contact Mackay to Ensure Navigation Safety
Re-Publishing as a REMINDER – Ensure your GPS-related electronics have been updated or replaced so critical Comm/Nav bridge electronics provide accurate readings for navigation efficiency and safety at sea!
UPDATED – GPS LookUp Table: Summarizing which Products/Serial Numbers Impacted 4-27-22
January 2022 GPS ROLLOVER impacts the following FURUNO devices*:
GPS Navigator – GP-32, GP33, GP-80, GP-90, GP150, GP500MKII
Dual GPS Navigator – GP-90 and GP150
DGPS Navigator – GP-37
GPS Receivers – GP-330B
GPS & DGPS/Plotter/Sounders – GP-1650 & GP1850 (W/WD/WF/WDF); GP-7000/F  & GP-3500 & GP-3500F
AIS FA150 and FA50
Felcom 15 & Felcom 16 Inmarsat-C
Felcom 18 & Felcom 19 MES SSAS / LRIT
Satellite Compasses SC30, SC50, SC110
Satellite Speed Log GS100
Weather Station WS200
May 15, 2022 IS JUST AROUND THE CORNER – GPS Rollover affecting JRC electronics*:
Inmarsat C JUE-85
Inmarsat mini-C JUE-95 (SA/ LT/ VM)
FleetBroadband (FBB) JUE-250
GPS Navigator JLR-7700 MKII
GPS Receivers JLR-4300 & 4331
*Depending on device, either ALL or specific S/N or CORE may apply
Without taking action, the internal dates/clock will either roll-back to the incorrect date (May 19, 2002 / Sept. 29, 2002) and display the wrong position, or the units can be expected to fail.  The impact is compounded when interfacing with other navigation equipment (ECDIS, GMDSS, SSAS. VDR, ODME, etc.).
Mackay is standing by ready to provide software upgrade assistance or product replacement in order to maintain data integrity and reliable navigation operations.
Contact Mackay World Service 24/7 to coordinate service or any of Mackay's 50+ Global Locations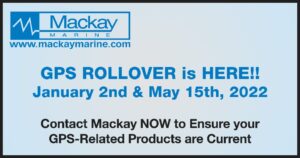 Mackay looks forward to ensuring your vessel's seamless operations.
Mackay World Service 24/7 at +1 281 478 6245 or service@mackaymarine.com
Click here for a sampling of our full-line of GPS, AIS, SSAS and Navigation Systems