NOTE: Regretfully Iridium 9555 satphones are Temporarily on Back-Order Due to Supply Chain Complications.
Iridium® 9555 KIT Online Purchase (KIT-IRID-9555V):
Base Phone Price:  $1495
Iridium® Airtime Required:

Pre-Paid Plans (Details or Select Plan)
Online SPECIAL – PrePaid Activation Fee $25
PostPaid Airtime, contact Mackay*

Online Purchase limited* to three (3) units
*Contact Mackay at +1 919 850 3199 or satservecomm@mackaycomm.com for questions, PostPaid Plans & volume purchase.
---
Be READY with Iridium® 9555 Satellite Phone EMERGENCY KIT, when connectivity could be crucial on land or at sea. Hurricane and unpredictable weather can compromise traditional communication channels; so rely on Iridium's truly GLOBAL "always-on" satellite system.
MACKAY's Iridium® 9555 Emergency Kit Includes:
*Standard Accessories include:  One Li-Ion Battery, Vehicle Kit Antenna/Adapter & 1.5M Cable, DC Auto Adapter, AC Charger w/Intl. Plugs, Hands-free Headset, Leather Holster & Earpiece, User's Manual, Data CD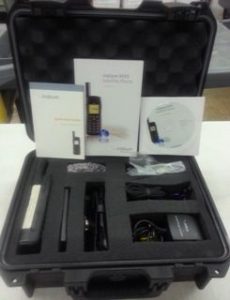 Tech Sheet(s)
Request more info on this product